HOMEPAGE
HIGHLIGHT_HOME
PASSION_BIKE_MTB
23 May 2022
24H OF FINALE & FOR YOU CARD TOGETHER FOR THE MAINTENANCE OF THE MANIE TRAIL AREA
What makes the 24H of Finale such a special event?
The unique atmosphere you can live here for sure, but let's talk about its location!
Altopiano delle Manie is a green and stunning area just a few kilometres from the centre of Finale Ligure with breathtaking views and a truly incredible network of trails...
Do names such as DH Men, Briga, Ponti Romani, and 24H trail mean anything to you?
This year, thanks to the collaboration between 24H of Finale and Finale Outdoor Region, the over 2.000 participants will receive a free FOR YOU CARD.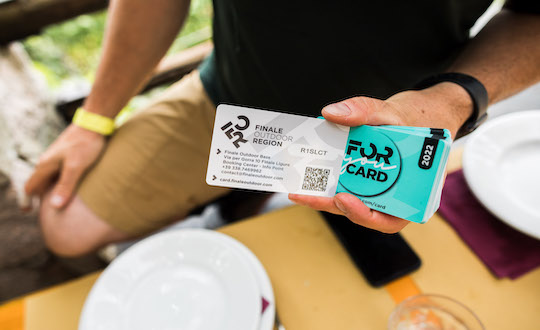 With the card, participants will be able to pick up the freebies of their race pack, meals and beers but, above all, with every purchase at some of the booths in the event village or at our FOR YOU CARD partners located at the Manie, the card holder will obtain points to receive a nice souvenir form the race or the area and, at the same time, will contrubute towords maintaining the Manie trail area!
WHERE TO USE THE FOR YOU CARD
At the Event Village
Rupe
Up Cycling
Ricicletta
Finale Outdoor Region
Wheel
Miele Boffa
Miele Milena
Montura
Exept Bikes
Bike Service
Beer
Bar
FOR YOU CARD partners at the Manie Plateau
Use the card at these activities all year round to support the maintenance of Manie trail area!